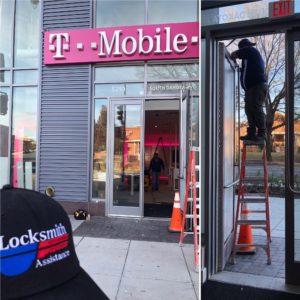 Our team of skilled Locksmiths are located all over Northern Virginia. Therefore, we usually get to your location within 15-20 minutes at anytime. You can rely on us to help you in any situation and provide competitive prices! There is no job to big or too small. Here is a list and explanation of our popular services:
This is the type of service you need when you want to open a lock and do not have the key. I can be the keys to your house, your office, or your car. Either way our skilled technicians offer non-destructive emergency lockout entry services to help you get back inside as soon as possible.
Wherever possible, Locksmith Assistance aims to repair a lock rather than replace it. Oftentimes, the lock doesn't actually need to be replaced, and a repair or partial part replacement will suffice.  Sometimes, a lock repair might cost almost as much as a replacement, and so it would not be a practical solution. Our locksmith will explain what the best option is for your particular situation.
Installing a new lock is exactly what it sounds like! It is the act of physically installing new hardware. It may be mounted into an existing hole or into a new one that we will cut. We at Locksmith Assistance install a variety of makes and models for both personal and professional use. In addition to your standard residential and commercial locks; we are also equipped to handle mailboxes, file cabinets,, patio sliding doors/ french doors.
Residential Rekey| Commercial Rekey
 Rekeying is the technical term for changing a lock without altering the existing hardware (meaning that you don't generally need to purchase any additional parts). Some locks require the existing key to be rekeyed. Our technicians will visually inspect your locks on-site and provide you with a quote for rekeying services. Please note it is not always possible to rekey a lock, in which case it may need to be replaced.
While unpleasant, sometimes landlords have no choice but to evict their tenants. If you find yourself in this unfortunate situation, we are prepared to help in the process and change your locks immediately. Please note that eviction-related service calls require the presence of not only of a locksmith but also of a law enforcement official, and we have no control over the arrival time or on-site decisions that this official might make.
Commercial Door Repair| Replacement
Locksmith Assistance is skilled in the repair or replacement of commercial metal or glass doors. We offer a free look at service to properly assess the best option for your commercial building. After we visit your property we will promptly send you an estimate via email  within 24-48hrs. We know that sometimes urgent matters arise and try to always service these calls the same day or the very next day where possible. 
ATTENTION: Phone quotes are given by request. However, every job is unique. Therefore, upon arrival information might be gained that changes the cost in parts or labor. Consequently, any changes to the final price will be told up front before work is completed.
•Alexandria• Annandale •Arlington •Ashburn •Berryville •Burke •Centreville •Chantilly • Clifton • Dulles •Fairfax •Falls Church •Front Royal  • Oakton •Manassas •Metro DC •McLean •Northern Virginia • Reston •Springfield •Stephens City • Sterling •Vienna •Winchester •Woodbridge•